the illustrations of the cynegetica in venice
codex marcianus graecus Z 479
by
Ioannis Spatharakis
Oppian's Cynegetica is a hunting treatise offered to the Roman Emperor Caracalla in 215 A.D. The manuscript in Venice is the only illustrated copy of an antique author dealing with this subject. It comprises 167 miniatures, all of which are reproduced here in full colour. They show horses and dogs, and animals that are hunted, their habits, and the methods appropriate to their capture. They are enriched with mythological scenes, some of which show unique subjects. The scenes include the hunting of lions, tigers, leopards, jackals, lynxes, bears, wolves, foxes, hyenas, wild boars, wild asses, wild horses, gazelles, porcupines etc. The manuscript was painted in Constantinople in the middle of the eleventh century; the ultimate model of the artist was most probably illustrated in antiquity. The large number of miniatures, together with their high quality and the rarity of the themes depicted, establishes this manuscript as one of the most important illuminated manuscripts of the Middle Ages.
The author is an expert in illuminated manuscripts and has several publications of this subject in his name. He examined here the iconography of the scenes in comparison with other relevant scenes, not only in Byzantium but also in antiquity. Animals and hunting scenes, which predominate in the illustrations of this manuscript, were also among the favourite subjects with which the Romans embellished their palaces, villas and public buildings. They are found on mosaic pavements all over the Empire, from England and Gaul to North Africa and the Near East.
The author studied the miniatures of the manuscript in relation to the text of the Cynegetica. Whenever a scene contained more details than provided by the text, or did not correspond to it, he located an alternative text that fits the miniature better. For this purpose several classical authors, who deal with similar topics, were consulted and cited. He found satisfactory texts and has reasonably argued that the texts of Xenophon's Cynegeticus, Dionysius' Ixeutica, Oppian's Halieutica and the Alexander Romance of Pseudo-Callisthenes could once have been illuminated, and that they may have been used as a model by the illuminator of the Cynegetica.

CONTENTS: Foreword, Introduction, Description of the manuscript, The minaitures and their relation to the text (Books one to Four), Iconographic and stylistic analysis of the miniatures, The date of the manuscript, Prototype or copy? Literary and artistic sources of the Cynegetica, The dates of the illuminated archetype and prototype, The Cynegetica and relevant scenes in the Art of the Middle Byzantine Era, Conclusions, Bibliography, Index, List of Illustrations.
"This edition of the Marcianus Cynegetica is indispensable not only for the study of the manuscript, but also of the other illuminated 'secular' manuscripts produced in Byzantium in the Middle Ages," Christopher Walter, in Revue des Etudes Byzantines, 64/65 (2006/2007), 410-411.

Bound, 24 x 17 cm., 400 pp. (288 pp. text, plus 184 illustrations in full colour and 58 in black and white)
2004 ISBN 90-806476-4-0 Price: Euro 250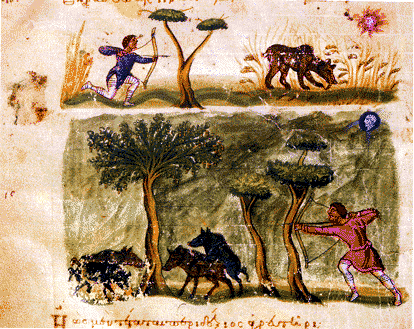 Oppian's Cynegetica MS Marcianus gr. 479, fol. 4vo, Hunting by day and hunting by night